LEGAL TRANSLATION FOR NOTARY PUBLIC IN UAE
LEGAL TRANSLATION DUBAI IS KNOWN FOR BREAKING LANGUAGE BARRIERS, CONNECTING THE WORLD, IS BEST TRANSLATION COMPANY IN DUBAI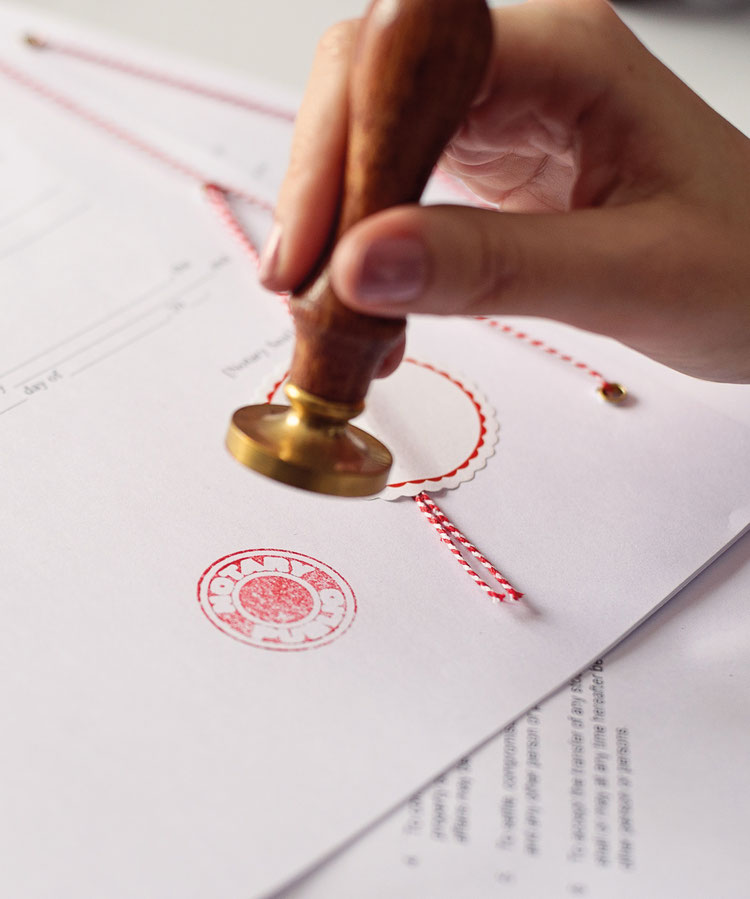 SERVICES OF NOTARY PUBLIC IN UAE
"The purpose of the Notary Public in Dubai is to cater residents of the UAE with all typesof legal authentication of their documents,in order to get the legal status of their transactions in personal and commercial affairs"
Essentiality of Legal Translation before legalizing by the Notary Public:
It is pertinent to mention that Notary Public of UAE is used to undertake and authenticate the document in Arabic, which is treated as the primary and integral part of the whole document, besides the second language such as English, French, German etc.
Standardization of Notary Translation:
Official translation for notary public purposes is supposed to be carried out in side-by-side format, especially when you belong to a country other than Arabic speaking.
You agreed and decided to give Power of Attorney to your friend, a member of your family or your legal attorney, to act as a proxy for the sale of your car in Dubai due to your busy foreign trips or unavailability to visit the RTA office. By giving the Power of Attorney, will help you to transfer the ownership of your car to the buyer through your proxy. However, in order to give authorization to your proxy, it is vital that the draft of Power of Attorney is to be made in English for the complete understanding of the grantor, so that he gets to know all the clauses of the PoA thoroughly without overlooking any part of it.After complete satisfaction upon English draft by the grantor, it can be carried forward to be translated in Arabic, following which, the respective PoA can be made useful for notarization.
Choosing of right company for sworn translation of your notary document.
We have underlined the importance of dealing with a legal translation company when it comes to attesting your document by Notary Public. But it is also important to choose a right company at a right place.
ASTS Legal Translation is largely known among all clients because of its official translation services accepted in the notary public. We are not only facilitating the services of certified legal translation from English to Arabic but also more than 100+ language pairs.
Our authenticated translation plays its role of approved translation at the Department of Notary Public. We have maintained our goodwill and officiality in all Notary Public offices in Dubai by providing meaningful and error-free translation which waste no time of our customers and they finally get their document notarized.
We have done legal translation of more or less 75000 agreements, Power of Attorney, Memorandum and Articles of Association, Legal and Commercial Contracts of all domains which were duly authenticated by the Notary Public.
Our experienced official translators have great deal of experience and skills in producing the right translation of legal content used in Power of Attorney, Contracts and Agreements etc.
ASTS Legal Translation has won hearts of many of its customers by providing surprisingly top quality translation for notarization purposes. Thanks to the quality assurance managers who underscore the ASTS Legal Translation keenness in the quality of accredited translation for authentication in notary public, expressing the great confidence in the leadership of ASTS Legal Translation.
Importance of name spellings in English/Other languages and Arabic.
Name spellings are the most important factor in the translation of agreements and PoA for notary public. One small mistake in the names spelling can affect validity of your Power of Attorney and Agreements in the respective authority of submission and you might be needing to do the whole process from the scratch. It means the spellings of the names of proxy and the grantor should be written exactly as per their passport or ID card. Therefore, we strictly advise our customers to be extremely careful in writing the spellings of their names as per their identification document.
12 YEARS OF EXPERIENCE IN LEGAL TRANSLATION
For all your language translation needs to trust our expertise at Legal Translation Dubai . As a certified translation agency we specialize in providing accurate and reliable services for Legal Translation and Normal Translation. Our team of experienced translators is dedicated to delivering precise translations for legal documents, contracts, and agreements. With a focus on quality we make sure that every translation should obey the industry standards. Contact us for Certified Translation Services that cross language barriers effectively and making communication seamless across different departments. Choose Legal Translation Dubai  for excellence in Legal, Normal, and Certified Translation services.